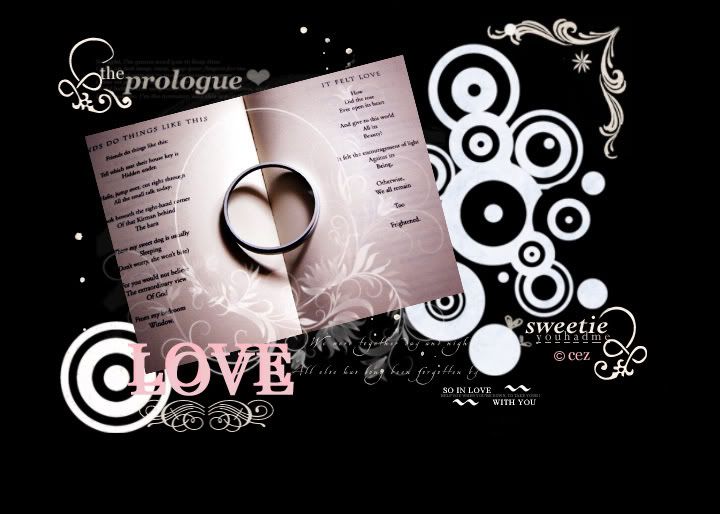 Saturday, May 13, 2006
todae moi sis bdae...here wish her happie bdae...
oso todae is Chinese Paladin last episode...die-die oso wun miz it de...cuz de story v damn nice...any1 noes wads de game name???i wld lik to try playin it...realli...juz in case...blow is de list of songs tt is in Chinese Paladin de...stil gt a couple more but realli cnt find dem...gt 1 realli muz hav but til now stil cnt b found...so sad..nvm...
ermx...lik miz out 2 songs lehz...des 2 songs duno wads deir names lehx...so dots...didnt noe tt chinese paladin gt SO SO MANI songs sia...
一直很安静
花与剑
终于明白
六月的雨
情怨
lalala
永恒的记忆
07.07-莫失莫忘(风铃).mp3
花与剑 midi
逍遥叹
Kill The Wolf / 杀破狼
妖域
桃花岛
淌血的心
千里姻缘一线牵
仙剑奇缘
时空之钥
玉满堂
姜氏孤儿
20:26

Welcome!
we cry together. we laugh together. we smile together. we play together. we share together. we care for each other. we love each other. tats wat friends r 4 (:
Remember, however long the night may be, the dawn will break. Never, never give up hope in your life.
♀ Profile ♀
Name: Lee Mei Zhen
Nickname: Mandy
Horoscope: Leo
Birthday: 'Aug/1990
Age: 20+
Height: 162 or 164? cm
Weight: =X
School: SVPS, TWSS, RP.
☠ Hates ☠

fEEliNs:lOneLineSs
Types oF ppL : bEtraYeRs,bAckstAbbeRs,liArs,pEttY ppL,fAke FreNzs & lots of oTheR tYpeS oF -gative Ppl.
✰ Wishes ✰

ehhx my Prince plz? >.<
global to STOP warmin
no more virius to com >.<
a job...?
money $_$
MORE CLOTHES PLZ!!
dye my hair?[duno wad color]
'zxhOpExz' engraved on a ring =]
'zxhOpExz' necklace
to hav long thick hair agn =D
Figmas [Nanoha, Fate, Hayate, Signum, Shamal, Vita, Chrono, Yuuno, Rein, Reinforce, Hitsugaya]
a wallet!
More pixs with Dear plz
a scent by Issey Miyake
Charles & Keith bag
Bourjois Paris Blusher
mascara [suggestion any1?]
MM lipgloss (mayb nt)
silky girl silver gliter eyeliner (mayb nt)
a SWATCH or CASIO watch
converse shoes [metallic ox] =x
heels
sandals
jeans skirt [white]
jeans [black]br> cardiganssss
Canon Digital IXUS 130
learn salsa or ballrm dance [basically i wana dance =x]
go overseas mayb?

❄ Tagies ❄
❦ Links ❦
aVc
7th Heaven Fashion
April 13
Awesome's Blogshp
Bin House
Bliss with Love
calla-Lily
Chiffon Candy
Crystals Clozet
Cute Little Stuffs
Dawnynllie Con Estilo
Dazzling Chix
Esprit1978
Fancy Pocket*
Fashion Kisser
Fusion Zense
Hope for AIDS
Hurs
Itemization-R
Jewellery Tales
jkBitches
JustaBar
JT-Mall
Love in Pocket
Me-To-You
My Pink Dolly
My Sweet Haven
Passion For Fashion
Passion Poise
Polka Dot Pigs
Precious Closet
Special Sales
Sweet Treats
Tee-rific
Ur Shp Hse
Vincelluvyou
Wardrobe 54
What Spree
XL Mobile Trend
-ANYTHING
BelleVille
Bing Xiang
Cheng Xi
Cheryl Lim
Christina
Cui Ying
David
DJrockX
Elaine Tang
Elle
Emelia
Evelyn Soh
faNgX2
Gerald
Germain
Gladys
Gordon
Hilda
Hoi Yee
iSaaC
IsaAc
jOeL
joLin tsAi
JiAn QiN
Jing Min
jUn jIe
LiaNgx ^2 kOr
Li Yi
Linda
Marcus
Mau Cheung
Mau Ching
mDm ShaReNa
Mei Zhu
Mekard
Melody
Natalie Lim
Orange
Qi Hui
RotibOy
sAgaRa
saLihAh
Salny
Sandra
Shawn Tan
Shella
Sheylara
Shu Wei
Siew Hoon
Suyi
Suyi [p2]
VerY fUnNy
vIvIaN
vIoLet
wEixIaN
weixian
Xin Ying
Xue Er
Ying Hui
Yu Ting
Zhen Jun
Zhi Yang
Zhi Yi
Memoirs
April 2005
July 2005
August 2005
November 2005
January 2006
February 2006
March 2006
April 2006
May 2006
June 2006
July 2006
August 2006
September 2006
November 2006
December 2006
January 2007
February 2007
March 2007
April 2007
May 2007
June 2007
July 2007
August 2007
September 2007
October 2007
November 2007
December 2007
January 2008
February 2008
March 2008
April 2008
May 2008
June 2008
July 2008
August 2008
September 2008
October 2008
November 2008
December 2008
January 2009
February 2009
March 2009
April 2009
May 2009
June 2009
July 2009
August 2009
September 2009
October 2009
November 2009
December 2009
January 2010
February 2010
March 2010
April 2010
May 2010
June 2010
July 2010
August 2010
September 2010
October 2010
November 2010
December 2010
January 2011
April 2011
May 2011
July 2011
October 2011
Credits
Powered by: |x|
Designed by: |x|
Photohosting by: |x|
Brushes by: |x|
Image by: |x|